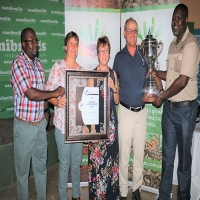 Hansie van der Merwe of Farm Ludwigshaven in the Tsumeb area was crowned 2019 Master Agronomist at the award ceremony and information sharing day held on Wednesday, 17 April 2019.
It has been customary since 1995, for the Namibian Agronomic Board (NAB) to annually bestow this prestigious award to an exceptional grain farmer. The event was hosted in collaboration with Namibia Agriculture Union (NAU) under the theme umbrella "Effective Agronomy Management".
According to the NAB's manager for white maize and wheat, Antoinette Pritzen, the award is presented to a farmer who is not necessarily evaluated on the size of his/her harvest, but rather on practising an exceptional innovative scientific approach, good risk diversification, good labour relations and community involvement.
Hansie van der Merwe, started farming with maize in 2007 when he bought the Ludwigshaven plot. For this year alone, van der Merwe planted maize on 42 Hectares of land, all under irrigation with an expected yield average of approximately 12 t/ha. He currently planted two varieties of maize (Panner SA-291 and Panner Bg 5285), and is also facilitating eight other trial varieties on behalf of Agra Ltd. In addition to that, he practices the crop rotation technique in order to enhance soil fertility and crop yield.
Apart from maize, van der Merwe is also a well-known horticulture farmer, he boosts with pride stating that he and his team hand-planted potatoes on 5 hectares of land in just 9 hours. He is also determined on addressing the issue of high unemployment rate being experienced in the country. He currently employs 22 full-time workers, of which 13 are females and 9 are males and hopes to expand his operations to offer more job opportunities in the near future.
Speaking at the event van der Merwe said "in order to harvest better yields successfully, you need to provide your plants with quality water and nutrient inputs as well as manage a quality staff component". He dedicated his success thus far to the NAB, his family, mentors and staff.
Speaking at the event, the NAB's Chief Executive Officer, Dr. Fidelis Mwazi said, despite the prevailing climatic conditions due to climatic variability currently being experienced in the country, it is commendable for other producers countrywide to implement smart farming practices such as those practiced by van der Merwe. Hence, the NAB encourages producers to adapt to the prevailing climatic conditions by shifting towards irrigation practices for food production.
"The NAB will continue supporting all Namibian agronomy and horticulture farmers in striving towards food security and improved lives of our citizens" he concluded.