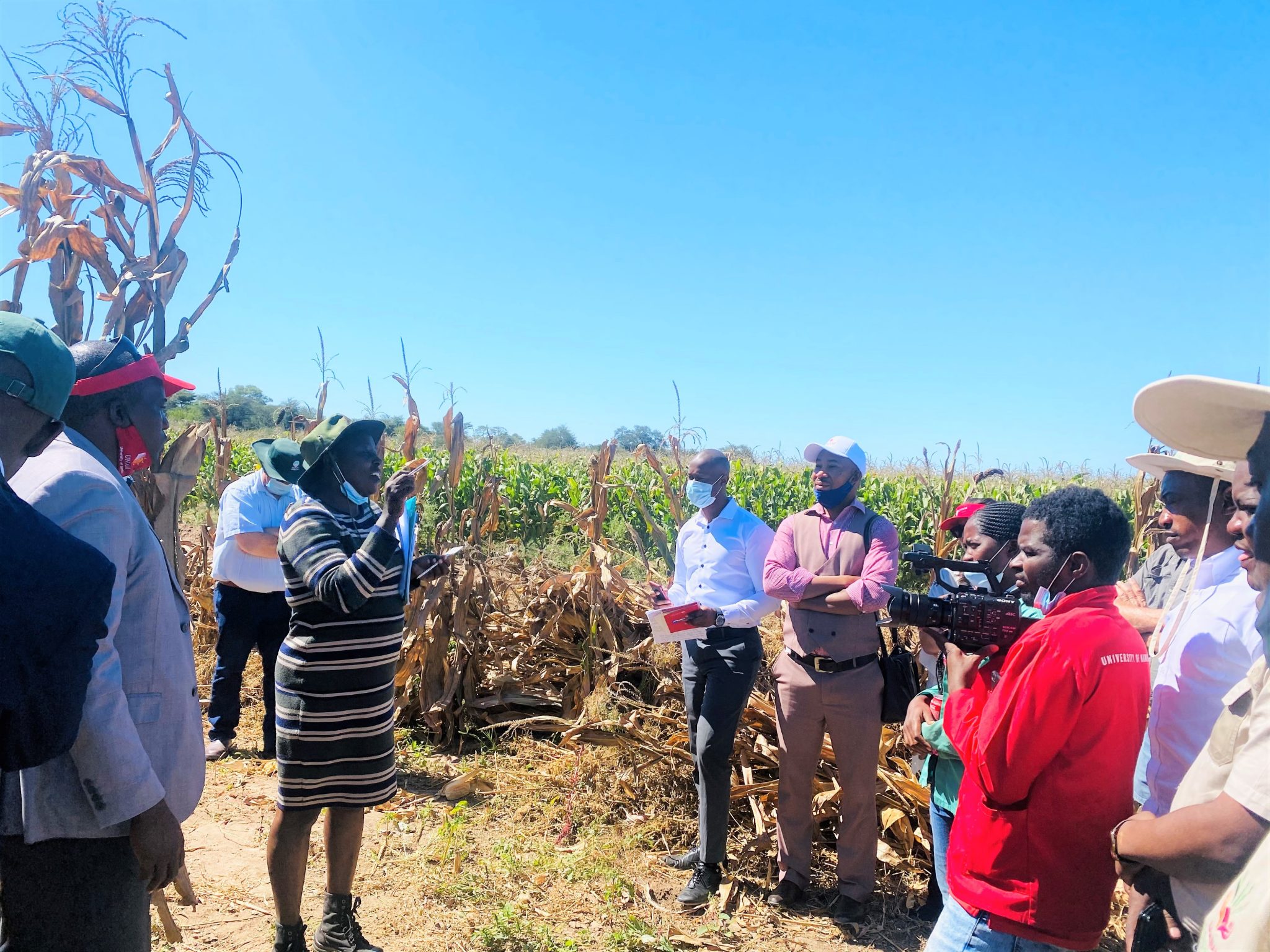 On the 10 th of May 2021, the Namibian Agronomic Board (NAB) in collaboration with the University of Namibia (UNAM) held a Seed Research Open Day event to assess the progress on the white maize and pearl millet seed variety trials currently being conducted by the two organizations at Mashare research site. The event was held at Mashare Irrigation (Pty) Ltd, situated about 50km east of Rundu in the Kavango East region.
The event aimed to highlight the preliminary outcomes on various seed variety trials currently being undertaken, as part of the implementation of the MOU signed between the NAB and UNAM on the 17th of June 2020.  The seed variety trials are being conducted at four research sites namely; Mashare Irrigation (Pty) Ltd, Ogongo UNAM Campus, Zambezi Vocational Training Centre and Dorringboom UNAM Farm respectively.
The resolution for the two organizations to collaborate in seed variety research stems from the need's assessment findings, which identified the limited availability of high-quality certified seeds that are high-yielding varieties, adapted to the Namibian climatic and soil conditions. The assessment further indicated that seed is the most important input and Namibia remains a net importer of both agronomic and horticultural seeds, a gap which the ongoing seed variety research aims to address.
Speaking at the event, NAB's GM for Agronomy and Horticulture Market Development, Mr Gilbert Mulonda said, "the seed trials will produce findings to supplement government's efforts in establishing white maize and pearl millet seed varieties that are best suited towards Namibia's climatic conditions and are most likely to produce maximum yields to ensure increased food production in Namibia".
During December 2020 to April 2021 growing season, 24 elite Pearl millet seed varieties were received from the International Crops Research Institute for the Semi-Arid Tropics (ICRISAT), for Eastern and Southern African Regional office in Nairobi and planted at the aforementioned research sites, tested under irrigation for yield and adaptability to the Namibian climatic conditions. Three early maturing local seed varieties; Okashana2, Kangara and Kantana were also included in the assessments, as checks.
During the same period, 28 early and 28 intermediate maturing white maize hybrids seed varieties were received from International Maize and Wheat Improvement Center (CIMMYT) and were similarly tested on all four research sites. Of which, one local seed variety and three commercial varieties commonly planted in Namibia were included.
Harvesting and final screening of the early and intermediate white maize and pearl millet varieties planted at Mashare Irrigation (Pty) Ltd and Zambezi Vocational Training Center is currently underway. However, for Dorringboom UNAM Farm and Ogongo research sites that were planted in January 2021, the harvesting and screening of yield is expected to take place as from end of June 2021. The top-performing varieties for both white maize and pearl millet seeds will be recommended for release after the second trials, subject to regulatory certification in line with Namibia's Seed and Seed Varieties Act No 23 of 2018, to be facilitated through the Ministry of Agriculture, Water and Land reform (MAWLR).
UNAM's Vice-Chancellor, Prof Kenneth Matengu highlighted that during the second seed trials -2021/2022 to be conducted later this year, the selections from the open day will be tested on more research sites and larger land areas under farmers' conditions.
Prof Matengu further called on for more Green Schemes and farmers to partner and participate in advanced seed trials by providing seed testing facilities and seed production areas.
Reflecting on the event, the NAB CEO, Dr Fidelis Nyambe Mwazi further highlighted that in line with the NAB's strategic plan for 2020/21-2024/25, seed research and production for agronomic and horticultural crops remains a key focus area. "The seed research is very significant in driving the sustainable crop production and the production of high-quality seed varieties is the foundation for a long-lasting profitability for a crop farming business in Namibia", he said.
"Ultimately, the hybrid seeds to be produced as from 2022 will be increased yearly, packaged and availed to our local farmers at affordable prices, which will further contribute to food security and reduced reliance on seed imports", he concluded.
The NAB remains committed to establishing itself as a world-class regulator of a vibrant, diversified and sustainable crop industry in line with its mandate of promoting the agronomic industry and to facilitate production, processing, storage and marketing of controlled products in Namibia as outlined in the Agronomic Industry Act, Act 20 of 1992.