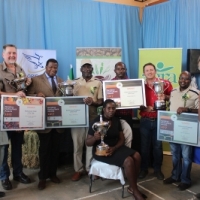 The National Horticulture Day, presented by the Namibian Agronomic Board (NAB), awarded the best horticulturalists Namibia has to offer. During the day, that took place on Wednesday, 27th September 2017 in Okahandja, stakeholders of the horticulture industry were brought together to celebrate the achievements of their hard work and to share best practices that will enhance and improve farming approaches to increase production in the country.
In his keynote address, the Minister of Agriculture, Water and Forestry (MAWF), Honourable John Mutorwa, congratulated the NAB for their impressive work over the past 15 years, to successfully implement the Namibian horticulture development initiative creating a conducive marketing environment for horticulture production. As part of the initiative, the market share promotion was established in 2005 requiring importers then, to source at least 5% of their total fresh produce demand locally. Currently, the local market share has risen to an impressive 44% through a collective industry consensus. Minister Mutorwa emphasized that, despite the current successes, much still needs to be done to develop horticulture which plays a crucial role in supporting communities and helping Namibia to attain food self-sufficiency.
Responding to the Minister's call to develop the horticulture sector, the chairperson of the NAB, Mr Michael Iyambo, said the NAB continues to strive towards the envisaged local market share of 60%. "Current production of horticulture is focused more on vegetables than on fruit production. This is reflected in the observed increase in vegetable production in the past decades mainly for onions, potatoes, tomatoes, cabbages, butternuts, green-peppers, cucumbers and carrots," said Mr Iyambo. But in contrast, he added that of the 18 295 tons of demand for fruit only 560 tons (3%) is sourced locally, leaving a massive opportunity for local investment in fruit production.
Horticulture Award Winners for 2017:
Producers:
Small-scale category: Muronga Agatha (3rd), Dynando Dynando (2nd), Clemens Makumbi (1st)
Medium-scale category: Epafras Hilengwa (3rd), Pius Kapikara (2nd), Jan Conradie (1st)
Large-scale category: Jimmy Kennedy (3rd), Floris Smith (2nd), Paulus Amutenya (1st)
Traders:
Small-trader category: Tigervege (2nd), Kuiseb Fresh Produce (1st)
Medium-trader category: Mathews Fresh Produce (2nd), Fonteine Trading (1st)
Large-trader category:Shakar Supermarket (2nd), Brenners Fruits (larger traders)
Very large-trader category: Erongo Food Products (2nd), Central Wholesale (1st)
Mega-trader category: Spar Namibia (2nd), Food Lover's Market Fruit and Vegetables (1st)
AMTA Hub Agent Winners:
Wholesale agent of the year: Stampriet Farmers Market
Commission marketing agent of the year: Nam Market Agents
During the award ceremony which formed part of the National Horticulture Day on Wednesday, 27 of September in Okahandja are from left, Mr Moses !Omeb (Special advisor to the Governor of Otjozondjupa Region); Mr Leon Nel, General Manager of Food Lover's Market (horticulture mega trader of the year), Hon. John Mutorwa (Minister of Agriculture, Water and Forestry), Tate Paulus Amutenya (large scale horticulture category winner), Mr Clemens Makumbi and his wife Anna-Marie (seated) (small scale horticulture category winner), Mr Jan Conradie of Agricon Mushrooms (medium scale horticulture category winner), Mr Michael Iyambo (Chairperson of the NAB), Mr Christof Brock (NAB CEO).
The national horticulture day was once again a success in bringing the stakeholders of the horticulture industry together, not only to celebrate on the achievements of their hard work but also to share best practices that will enhance the industry along the entire value chain.