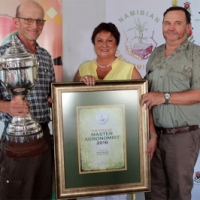 Windhoek, 14 April 2016: The Namibian Agronomic Board (NAB) has this year awarded the title of Master Agronomist to Mr Georg Sievers of farm Ilmenau near Grootfontein. The NAB initiated the Master Agronomist Award and has been rewarding commercial grain producers who have implemented farming practices that maximise their yield of white maize under both irrigation and dry land conditions for the past 16 years. The idea behind the Master Agronomist Award is to recognise how producers apply an integrated approach to their farming practices and how innovative they are in overcoming challenges in realising successful crops. Awarding the Master Agronomist title annually forms part of the NAB's mandate of creating a marketing environment that is conducive to the growing and processing of crops in the Republic of Namibia.
Georg Sievers is a third generation producer at Farm Ilmenau in the Grootfontein region. After completing his studies in agriculture at Stellenbosch University in 1992, he returned to Ilmenau to work alongside his father and start his agronomic production career on the farm that has always been his home. When his father focussed his efforts on livestock production on another farm, Sievers took over Ilmenau and has since made the production of white maize and other crops the focal point for farm Ilmenau.
The current white maize production environment is characterised by a serious drought and highlights the strength of character that all producers must have to survive in their industry. Sievers is highly respected amongst his peers, academically qualified in the agricultural sector, has vast experience, knowledge and an element of intuition for farming on Ilmenau that he shakes off shyly. This is his second Master Agronomist title after an initial win in 2005 and this year's achievement is testament to his perseverance and tenacity as a crop producer in the Republic of Namibia. During a challenging time and with no guarantees of good rains – he planted 200 hectares of white maize of which 65 hectares are cultivated under irrigation alongside a selection of beans, black carrots and sorghum. This approach of diversifying produce, especially during the current drought, contributes toward the financial health of Ilmenau as a business concern.
In terms of managing the various aspects of his farming practice under current difficult production conditions, Sievers made choices that may not have been the standard response in the face of a pending drought. He juggled variables such as late planting due to delayed rains, choosing to plant a resilient cultivar that is drought tolerant and disease resistant and planting at intervals that produce a plant population that is less dense than. The lower plant population of 19 000 per hectare makes fewer demands on soil that is already compromised. For example, a lower plant population per hectare crop will take up less water from the soil and will require less fertiliser. Under favourable production conditions, Sievers would normally plant about 22 000 plants per hectare.
A critical aspect of farming that faces every producer, especially in a drought, is managing input costs against the anticipated income of the crop. By definition, crops during a drought are particularly vulnerable so its income is not secure. On a particular section of his fields for instance, Sievers planted beans under dry land conditions on an area that he had not treated with fertiliser. Fertilising productive soil annually is critical to the success of any crop but is an input cost that needs to be managed. The bean crop helps with weed management and soil productivity during the next season and with his choice to not fertilise to cut down on input costs, Sievers has achieved a few things; he has kept his soils on his entire farm healthy productive for future crops and he has diversified his crop outputs and the potential for income.